FAQ Sweepers
In a moment your questions swept away

---
Here we answer the most frequently asked questions about our sweepers. Should you not find what you are looking for, we will be happy to answer your questions personally.
An important detail of the patented superior disc broom drive has been further developed in such a way that the reliability and longevity of the drive coupling has been increased many times over compared to the previous proven system through a new form-fitting design and the use of new self-lubricating materials! External influences such as dust, dirt or moisture cannot harm the coupling.
You can determine the right sweeper for your application based on the following criteria:
1. how large is the area to be swept?
2. how often do you sweep?
3. how clean does the area need to be?
For small areas (approx. 250-500 m2) and occasional sweeping, we recommend the Starmix 355 (55 cm sweeping width) and 375 (75 cm sweeping width) for around the house. The 375 model also has an additional cross-mounted sweeping roller that picks up particularly fine dirt.
For larger areas (up to 1,000 m2) and regular sweeping, we recommend the Starmix 477 (77 cm) and Starmix 497 (97 cm - up to 2,000 m2) professional sweepers, all also with the turbo sweeping system - 2 disc brooms in front and a transverse fine dirt sweeping roller..
For very large areas (up to 2,500 m2) and regular sweeping, our battery-powered professional sweepers 677 (77 cm) and 697 (97 cm) score highly.
All surfaces that are level and paved can be swept. With the central height adjustment on the device, the disc brooms can be adjusted to the respective surface. Level 1 -2: for all hard surfaces, such as asphalt, concrete, slabs. Level 3 - 4: for more uneven surfaces, e.g. washed concrete slabs as well as for damp leaves. For more uneven surfaces, such as cobblestones, cobblestones (with a height difference of max. 1 cm), level 5 - 8 is recommended. With these higher settings, it should be noted that the sliding resistance also increases.
This is not a problem, because the battery models can be operated both electrically and manually. However, constant manual operation does not make sense due to a higher sliding resistance and the worm wheels would also wear out excessively.
In case of longer standstill periods of more than 2 months (e.g. storage time over winter), disconnect the battery cable (under the hood - see operating instructions) to protect against deep discharge of the battery. When storing the sweeper, make sure that the disc bristles are not kinked or bent, i.e. place it vertically on the sweeping material container.
The intelligent charger has a fully electronic voltage and current limitation. This means that a connected battery is always kept at optimum charge. This prevents the battery from being overcharged. After completion of the charging process after approx. 7 h (LED indicator on the charger lights up green), however, it is recommended to disconnect the charger from the mains.
This depends on various parameters, e.g. if the battery is regularly recharged after use and the average depth of discharge does not exceed 50%, then you can assume approx. 550 charge cycles.
A maintenance-free lead-gel battery with 12 V / 12 Ah.
Depending on the condition of the substrate, approx. 90 min.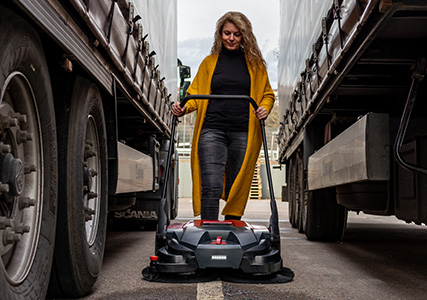 Do you have any questions about our sweepers?

If your question is not answered yet, we will be happy to answer it personally. Just write us what you want to know and we will take care of it.