Disinfection dispenser DSH S champagne
Disinfection dispenser 2-in-1 floor standing unit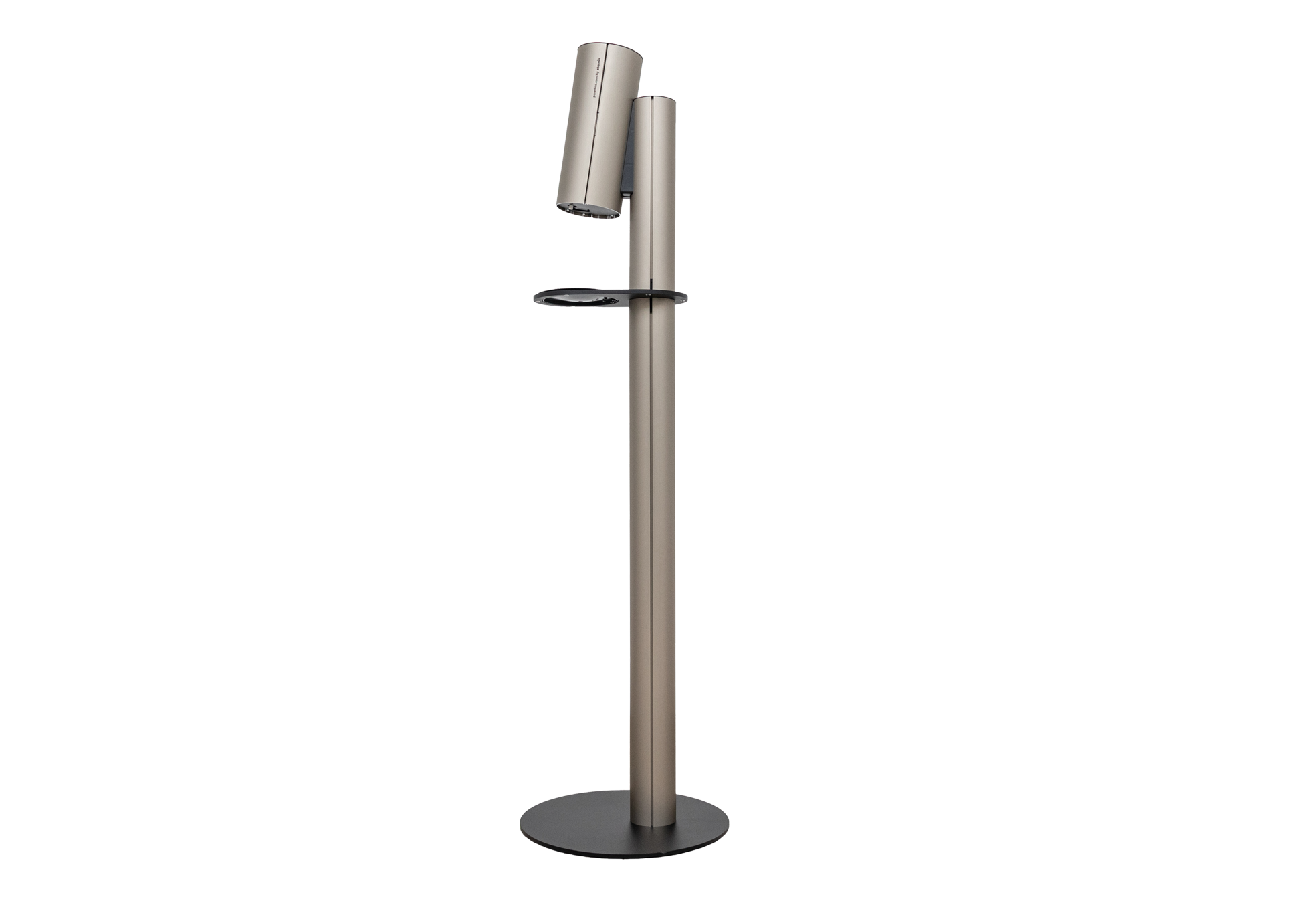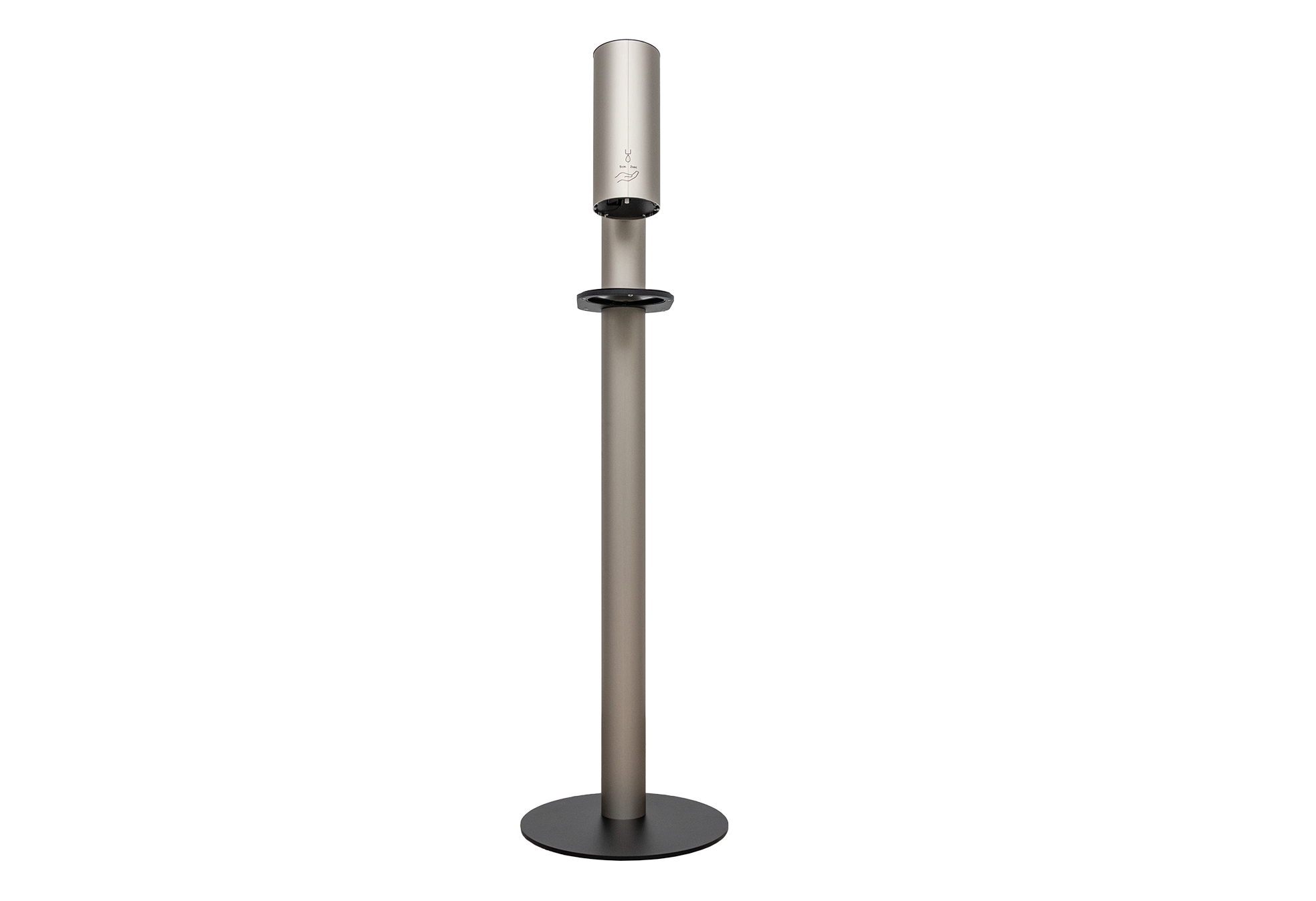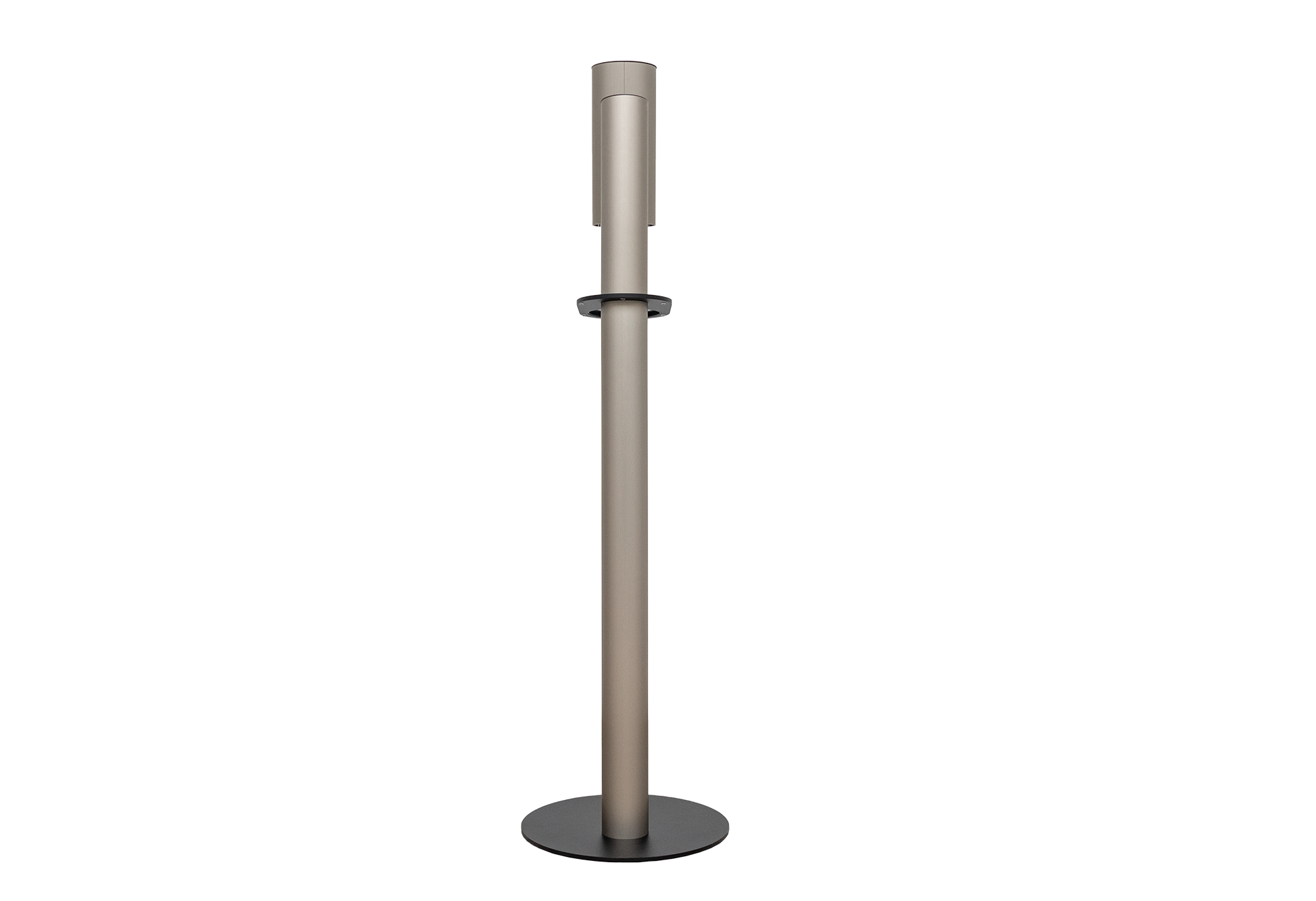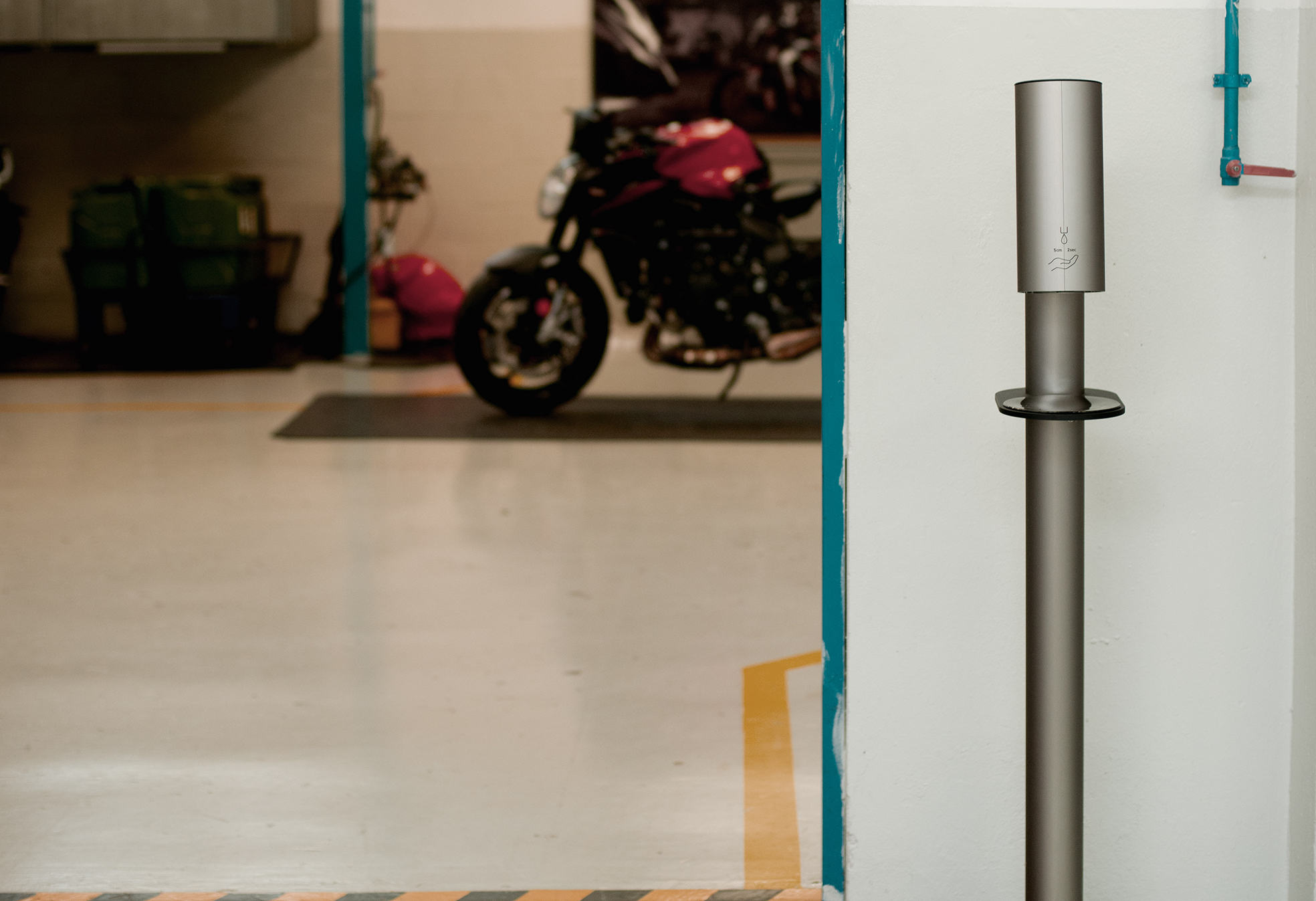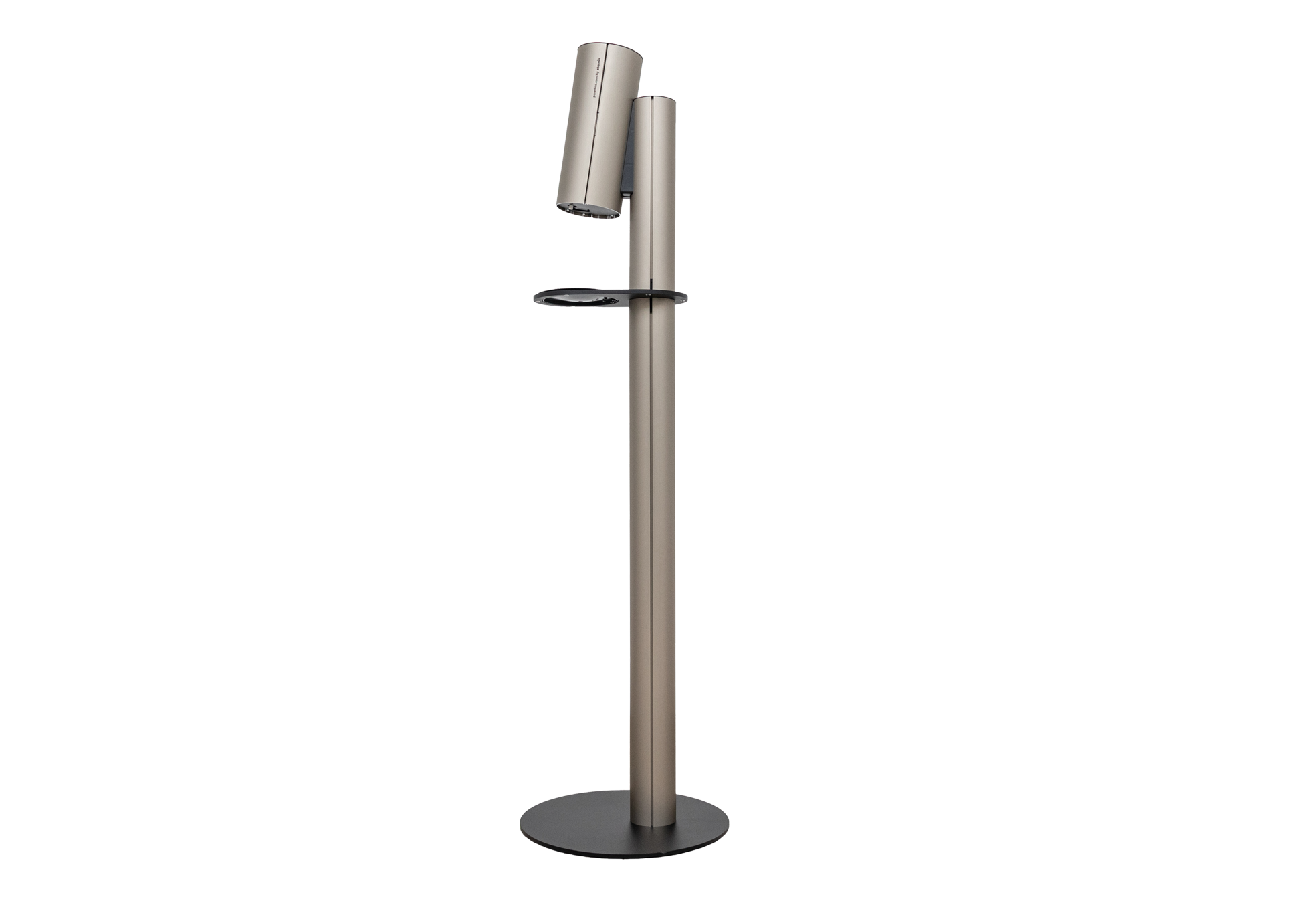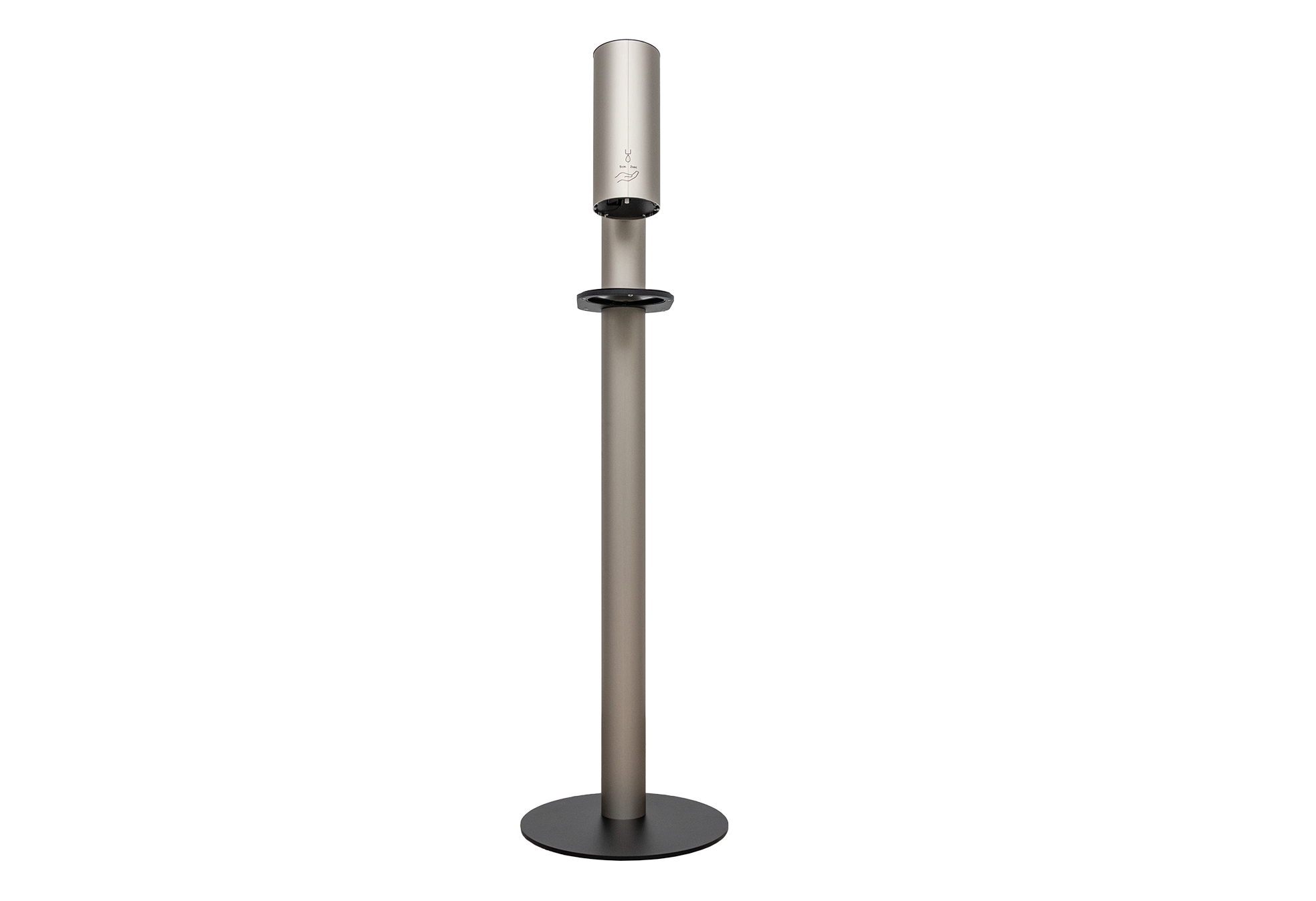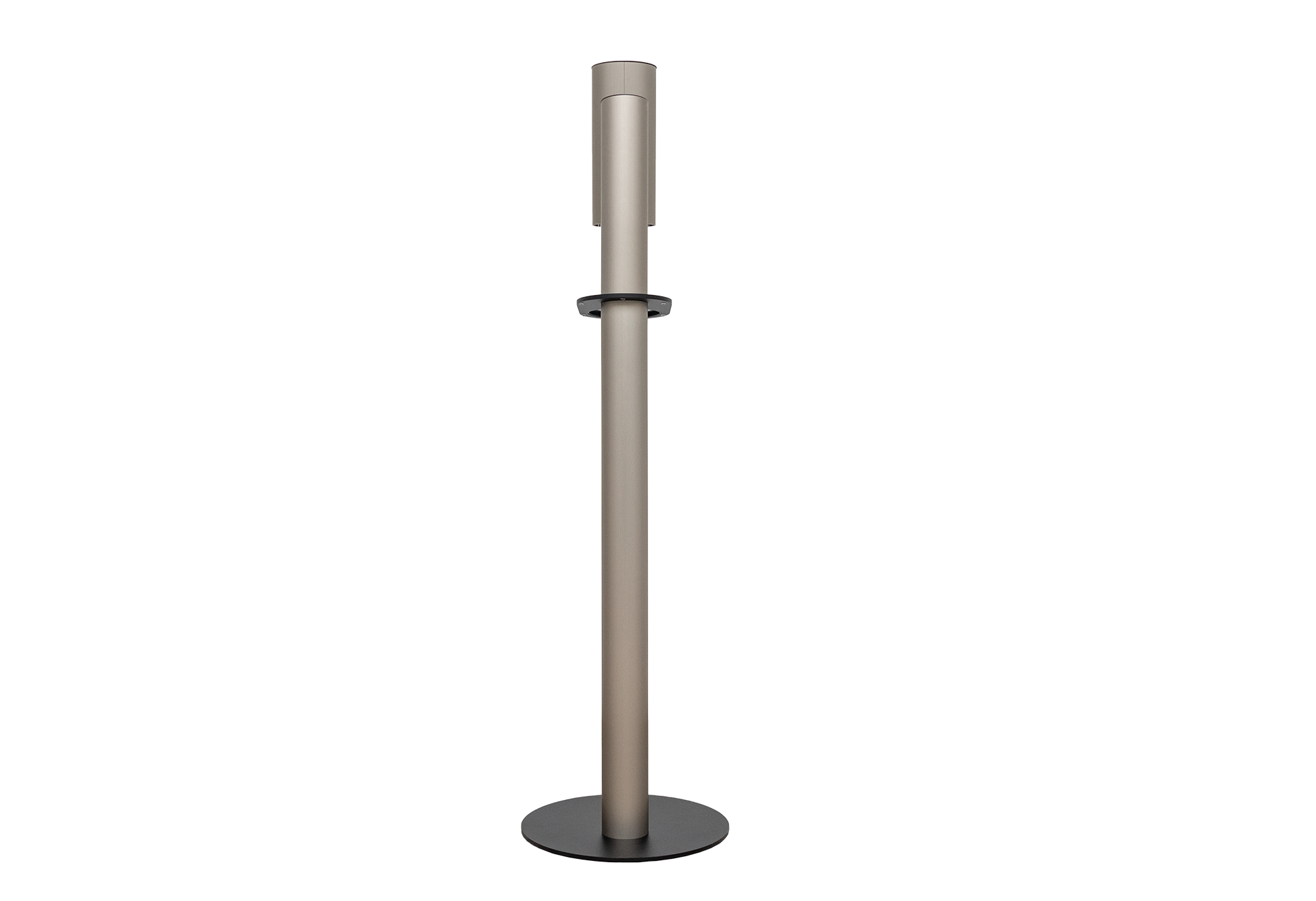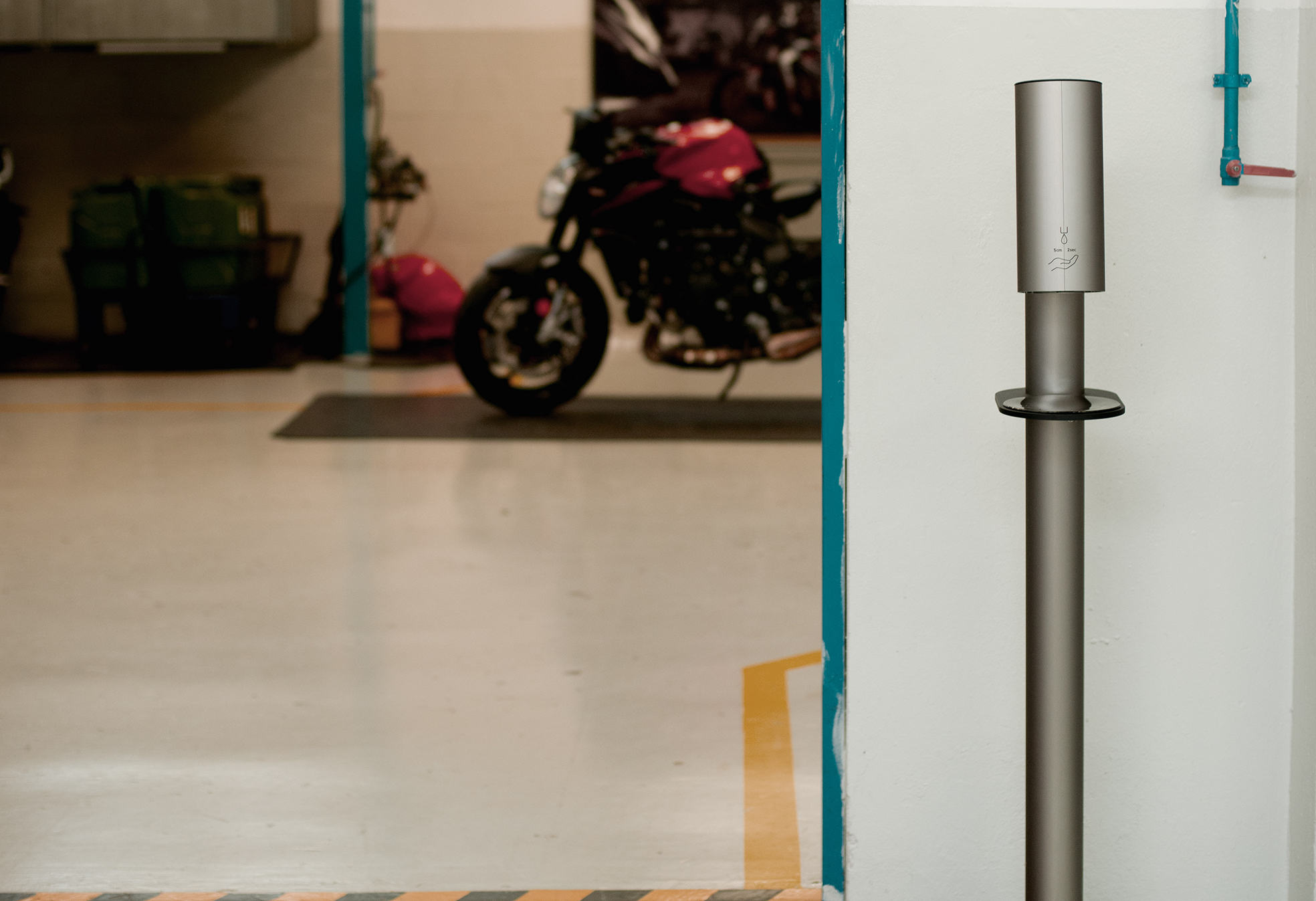 EUR399.00*
EUR558.11*
(29% saved)
With removable stand - can be used as a tabletop version
High quality materials
Cordless and efficient
1,000 disinfections per tank filling
Highest demands on hygiene and design
Robust, stable and easy to clean. The disinfectant is dispensed without contact via a sensor control. The dispenser has a practical collection tray and a refillable container (container capacity: 1 liter, equivalent to 1,000 dispensing cycles) for the cash disinfectant.

The dispenser is a 2 in 1 solution and can be converted to a tabletop unit in just a few simple steps. The scope of delivery includes 4x AA batteries. The dispenser can be operated with disinfectant in gel and liquid form.

Design by Michael Schmidt, C2D
| | |
| --- | --- |
| Dimensions tabletop unit (W x D x H) | 175 x 285 x 463 mm |
| Dimensions floor standing ( W x D x H) | 380 x 380 x 1410 mm |
| Weight floor standing unit | 9.5 kg |
| Power supply | 4 x AA 1,5 Volt |
| Quantity / dispensing cycle | 1 ml |
| Gel tank volume | 1000 ml |
| Weight tabletop unit | 2.45 kg |
| Voltage | 230-240 Volt~, 50/60 Hz |
| Voltage | 230-240 Volt~, 50/60 Hz |
Advantages at a glance

battery operated, up to 25.000 operations


refillable container for gel disinfectant


available in champagne or black color
contactless due to automatic sensor control


Container filling capacity 1,000 dispensing cycles


Practical collection tray, easy to clean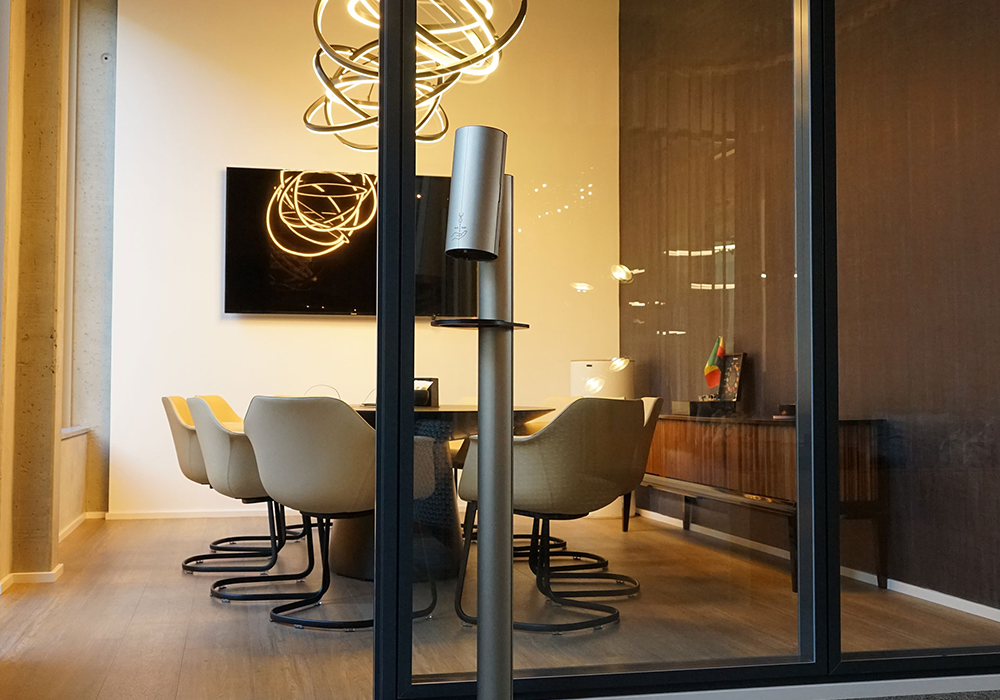 All in One
A good and safe feeling with a flick of the wrist. Simply get clean and well-groomed hands in passing.
Hold hands about 5 cm under the dispenser and wait 2 seconds

Rub the dispensed ready-to-use gel thoroughly until completely wetted for 30 seconds
to the product overview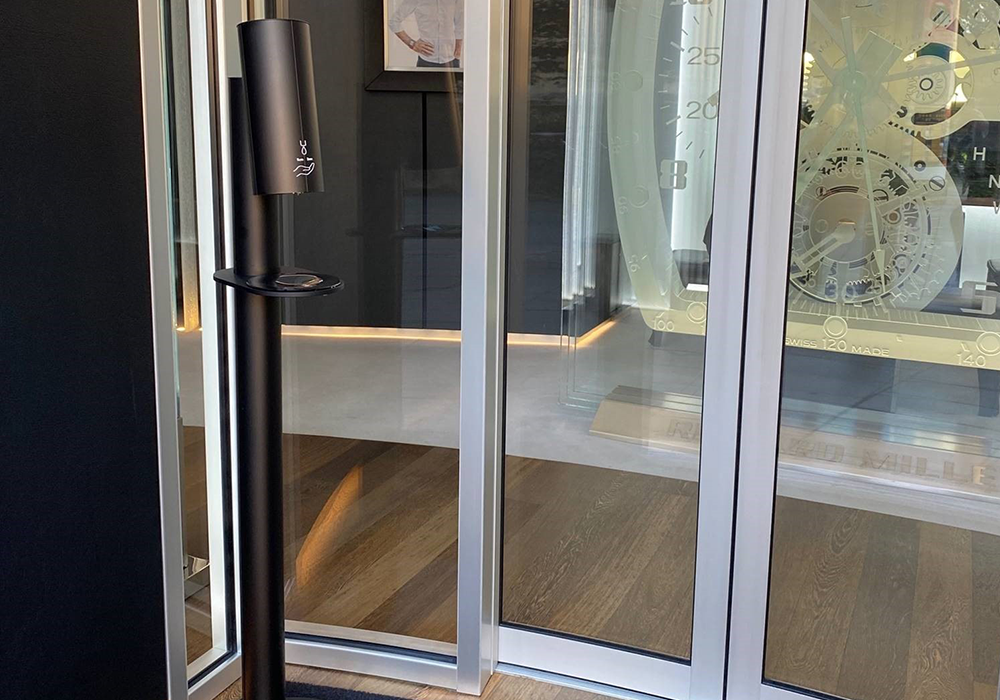 Richard Mille Boutique Munich

The attractive design as well as the caring disinfectant solution have already received a lot of praise, especially the scent and the properties of the solution are well received. We have also noticed that our customers react very positively to the product and automatically use the dispenser. I am also thrilled with the simple and valuable design of the dispenser, which visually fits perfectly into our boutique environment.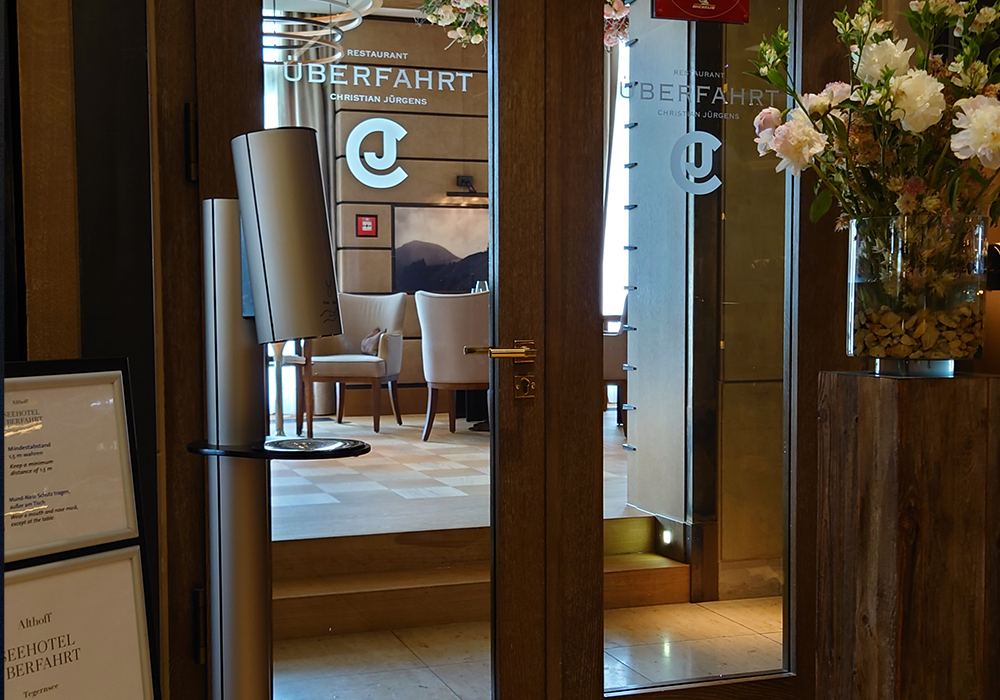 Althoff Seehotel Überfahrt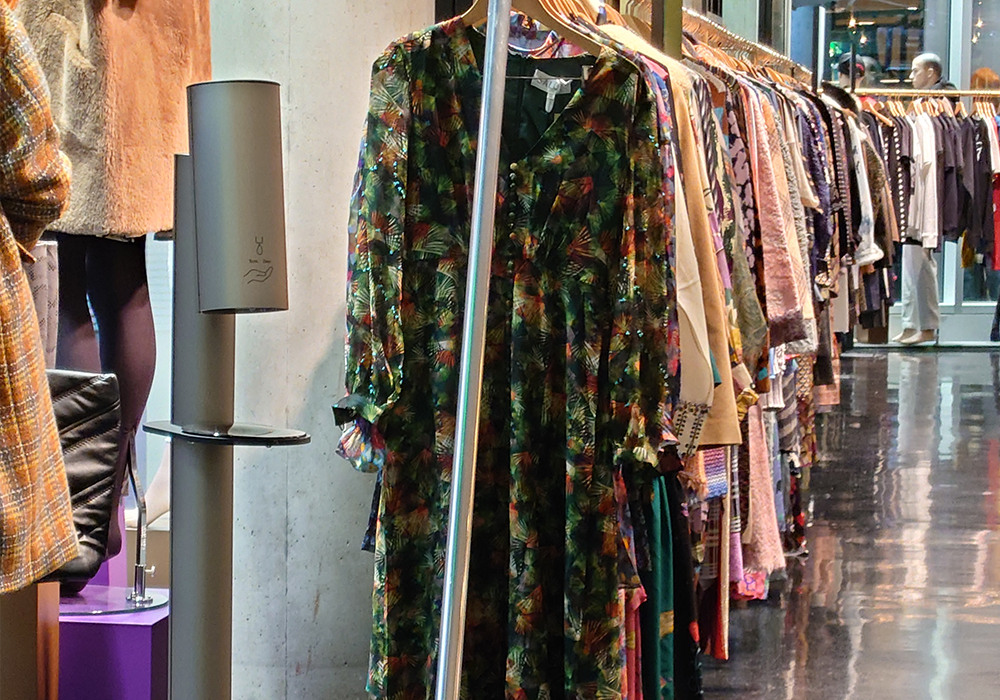 Abseits Germany

Since the pandemic began, we've already replaced three disinfection dispensers - because of poor quality and design that just doesn't fit our customer base. My customers come for a great shopping experience and hand disinfection is now part of that. The PureDico hit the nail on the head, this is definitely the highest quality and most stylish disinfection station in the market. I am very satisfied!
Tennis Club Weissenhof


The dispenser is now in our foyer and looks very good from the visual design! The functionality is great, because it is contactless possible to get disinfectant. The dosage of disinfectant is perfect. It is just enough so that you can disinfect your hands sufficiently. The disinfectant itself is the best I've used. It feels great, absorbs quickly and smells very pleasant.

Haller Law Society mbH Ebersbach/Fils


Three disinfection dispensers are in our possession and also in daily use. The construction, the dosage as well as the refilling is very user-friendly and therefore very easy. The Aloe-Hyaluron-Gel is very skin-friendly, this is noticeable from the first application. We are fully satisfied and recommend it to anyone who is looking for such a great product.

Renowned law and notary firm
Stuttgart
We are very satisfied with the dispenser. It fits perfectly into our entrance area and the disinfectant is great!
Other professionals also bought