Electrostar in facts and figures

---
Contemporary hygiene and rational, dust-free work, that is our know-how.
At our two locations in Ebersbach/Fils (Southern Germany) and Shanghai (China), we develop and produce vacuum cleaners for a wide range of requirements, high-quality sweepers and electrical sanitary products of the highest quality.
As a vacuum specialist - the starmix brand is synonymous with powerful vacuums for craft, industry and the private sector - with innovative filter- and filter cleaning technology.
As the inventor of the heated air hand dryer - Electrostar is the pioneer of this most economical system for hygienic hand drying and one of the most important manufacturers worldwide.
As a sweeper specialist - Electrostar scores as a pioneer of some smart functionalities such as the turbo sweeping system or the counter-rotating disc brushes.
Corporate brand

Electrostar
Main product brand

starmix
Employees Ebersbach
210
Employees Shanghai
100
Distribution to other
countries
60



Distribution type

2-stage
3-stage
direct
Export share in percent

50
Distribution companies

Holland
Russland
China
No future without a past
It all started in 1921 with the "Elektrotechnische Spezialfabrik für Staubsauger und Gebläse". More than 100 years have passed since then and nowadays we are mainly known under the product brand "starmix", one of the most successful products in our history.
Are you interested in how everything has developed?
Then have a look here: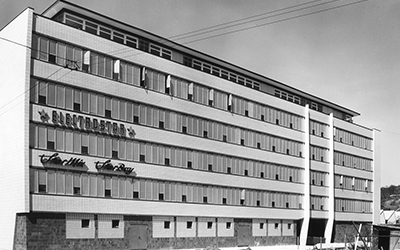 ELECTROSTAR - that's what we stand for:
High-quality cleaning and sanitation solutions for a clean and sustainable world.

With our know-how in air, sweeping and cleaning technology and our user-oriented product design, we create high-quality cleaning and sanitation solutions for a healthy, clean and sustainable world.
More at