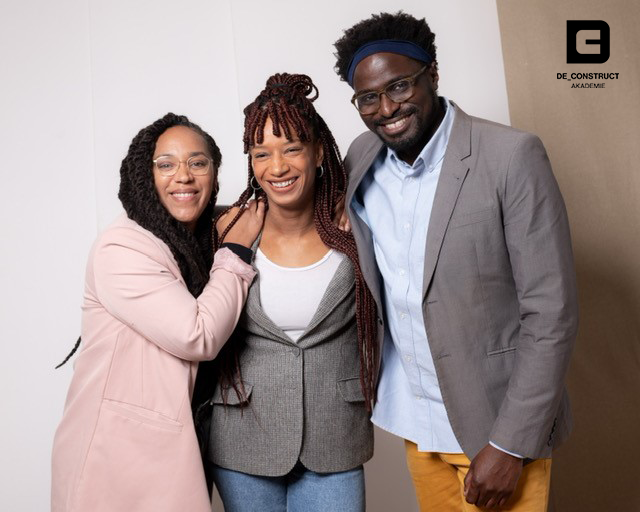 ELECTROSTAR/starmix supports project for racism sensitization

With the DE_CONSTRUCT ACADEMY for an appreciative coexistence.

Stuttgart/Ebersbach, April 13, 2023 – The DE_CONSTRUCT ACADEMY is the first digital training platform for racism sensitization for psychosocial professionals in German-speaking countries. ELECTROSTAR/starmix is involved in the project, which is personally close to the heart of CEO and DE_CONSTRUCT Ambassador, Roman Gorovoy.
Picture: The founding team of DE_CONSTRUCT Academy Stephanie Cuff-Schöttle, Mashanti Alina Hodzode, Anthony Owosekun (l.t.r.) Source: DE_CONSTRUCT
"It is the duty of every businessman and businesswoman to create a safe environment for their employees, where everyone can fully develop. In our diverse world, exclusion through racism in the workplace is a problem that is gladly kept quiet and is still commonplace," emphasizes Roman Gorovoy, Managing Director of ELECTROSTAR/starmix in relation to the project.The psychologist Stephanie Cuff-Schöttle, the trainer for peaceful team and organizational development Mashanti Alina Hodzode and the educator Anthony Owosekun founded the DE_CONSTRUCT ACADEMY in 2022. Since 2018, they have been offering racism sensitization for mental health professionals in different fields of activity. Currently, the team is in the development phase of the first online courses for their continuing education platform, an endeavor for which the initiative relies on financial support. "In addition to our practical experience, a recent representative survey (NaDiRa, 2020) by the German Center for Research on Integration and Racism also shows that both direct and indirect experiences of racism lead to strong affective concern among those involved. Between 60 and 80% of people who have experienced racism, witnessed racist incidents, or have been told of such experiences report having been emotionally agitated by them. With our platform, we want to raise awareness of the fact that racism must be classified as a burden on society as a whole, which can of course be accompanied by destructive consequences, especially for those directly affected," emphasizes Stephanie Cuff-Schöttle. "Diversity in the company does not end with putting together diverse teams. It must also be ensured in the long term that no one experiences racism again."
In order to prevent racist experiences and help those affected, trained professionals are needed. "Many psychosocial professionals work in HR and leadership positions, and it is here that awareness-raising brings enormous added value," says Mashanti Alina Hodzode. "Preventing racism is in the very best interest of companies: To create a discrimination-sensitive work environment with regard to the shortage of skilled workers, and to safeguard the health of employees and minimize absenteeism."
Roman Gorovoy shares this opinion, which is why he is happy to support the project. "Companies must learn to recognize cases of racism and protect their employees in the long term. In DE_CONSTRUCT, I see a project that will make a lasting contribution to raising awareness and thus protecting all employees," says Gorovoy. "We already hold health days, regular management training sessions and team-building activities. Adding racism awareness to these is another important building block," says Roman Gorovoy.

starmix – a piece of German industrial history that is being continued with great success in the 21st century. The industrious Swabians invented the hot-air hand dryer and achieved world renown with the starmix kitchen machine. Today, ELECTROSTAR GmbH, which has been part of the Algo Group since 2007, stands for innovative technologies, superior quality and an uncompromising customer focus. The company sells a wide range of powerful vacuums for trade, commerce and industry, modern warm air and high-speed hand and hair dryers worldwide and has an extensive hospitality product range. Since the acquisition of Haaga Kehrsysteme GmbH in 2012, innovative sweepers have also been part of the product range. In 2020, ELECTROSTAR/starmix and Haaga Kehrsysteme merged. In 2021, the merger with PRODUCTEERS took place under the umbrella of ELECTROSTAR. The group of companies employs around 300 people at its sites in Ebersbach and Shanghai and achieved a consolidated turnover of 65 million euros in 2021.

DE_CONSTRUCT- is the first digital training platform on racism awareness for professionals and is currently under construction. The team has been working with companies and organizations for many years and trains professionals and managers in dealing with racism, discrimination and conflicts. DE_CONSTRUCT produces online courses and blended learning formats that teach HR managers and executives how to accompany their team members in a racism-sensitive manner, what to consider in team development and recruiting, and which structures are relevant within the company in order to position itself for the future.
Press inquiries
If you have any questions about the company, products or other information material, our press contact will be happy to answer them personally.


Philipp Nisster
echolot pr GmbH & Co. KG
Waldburgstraße 17-19
70563 Stuttgart
Fon: +49 159 01929655
nisster@echolot-pr.de
www.echolot-pr.de




Gwendi Harer
Electrostar GmbH
Hans-Zinser Str. 1-3
73061 Ebersbach
Fon: +49 7163 9988-011
gwendi.harer@starmix.de
www.starmix.de