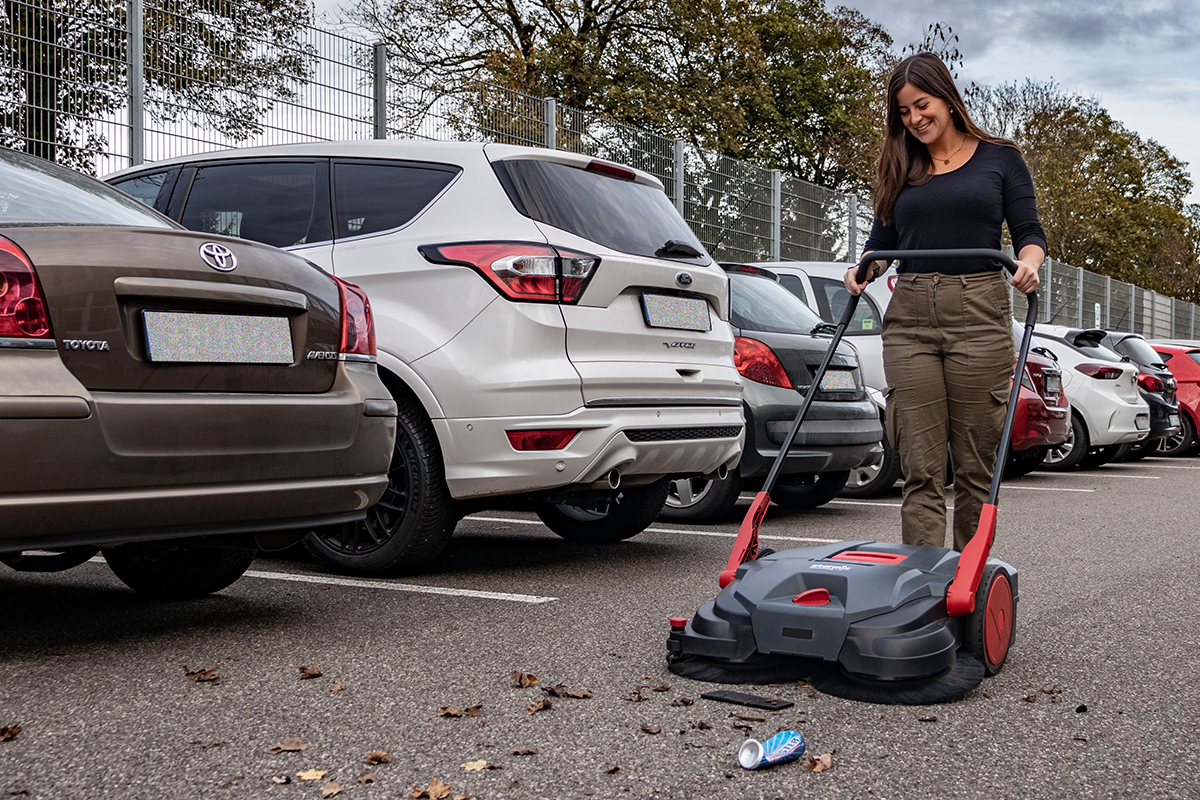 Efficient, long-lasting and robust: sweeping jobs are child's play with the DuroSweep 77.
Turbo sweeping system for large areas

Stuttgart/Ebersbach, 10.07.2023 – Property managers, workshops and cleaning service providers are often faced with the challenge of having to clean large yard areas quickly and thoroughly. For this purpose, ELECTROSTAR/starmix is launching the new DuroSweep 77 in the manual Pro version or in the battery-powered Pro 18 V variant for professional use.
Both versions of the DuroSweep 77 support with a two-stage turbo sweeping system. This consists of disc brooms with a fine debris roller behind them, sweeping the swept area twice. The broom drive itself features positive-locking and self-lubricating gear connections for increased durability and reliability. Additionally, it is dirt-protected encapsulated to prevent dirt-related jamming and damage. "As part of the starmix core line, the DuroSweep is designed for professional use on large surfaces. It is characterized by robust workmanship and equipment designed for continuous use," says Florenz Stetter, head of product management at ELECTROSTAR GmbH.
The brush height can be adjusted in seven stages to ensure maximum cleaning performance on different floors. Thanks to protruding disc brushes and brush holders, even hard-to-reach areas under edges and at corners can be cleaned with ease. The ergonomic push handle can be mounted without tools.

More sweeping power thanks to battery support
The battery version of the DuroSweep 77 Pro is designed for particularly large areas of up to 3,600 m². The 18-volt battery is fully compatible with the cross-manufacturer Cordless Alliance System (CAS) and has a maximum battery runtime of 120 minutes at the highest of four speed levels. "The special feature of the cordless unit is the integrated front light for driveway illumination. This makes sweeping work possible without any problems even in unfavorable lighting conditions," says Florenz Stetter. With a total weight of 16 kg, it is only one kilogram heavier than the manual model.

Long-term product test of a somewhat different kind
To celebrate the new launch, a specimen of the DuroSweep 77 Pro 18 V is sent on an unusual journey: Today, July 10, starmix sales representative Ralph Burkart sets off on foot from ELECTROSTAR headquarters in Ebersbach an der Fils to the starmix plant in the Czech town of Nýřany near Pilsen. Together with the sweeper and an escort vehicle, he covers the approx. 400 km distance within 18 days. "With this long-term test, we want to show that the DuroSweep is made for the toughest challenges as an endurance runner," says Florenz Stetter.

ELECTROSTAR/starmix – a piece of German industrial history that continues with great success in the 21st century. The industrious Swabians invented the hot air hand dryer and achieved world renown with the starmix kitchen machine. Today, ELECTROSTAR GmbH, which has been part of the Algo Group since 2007, stands for innovative technologies, superior quality and an uncompromising customer focus. The company sells a wide range of powerful vacuums for trade, commerce and industry, modern warm air and high-speed hand and hair dryers worldwide and has an extensive hospitality product range. Since the acquisition of Haaga Kehrsysteme GmbH in 2012, innovative sweepers have also been part of the product range. In 2020, ELECTROSTAR/starmix and Haaga Kehrsysteme merged. In 2021, the merger with PRODUCTEERS took place under the umbrella of ELECTROSTAR. The group of companies employs around 300 people at its sites in Ebersbach and Shanghai and achieved a consolidated turnover of 65 million euros in 2021.


Press inquires
If you have any questions about the company, products or other information material, our press contact will be happy to answer them personally.


Philipp Nisster
echolot pr GmbH & Co. KG
Waldburgstraße 17-19
70563 Stuttgart
Fon: 0159 01929655
nisster@echolot-pr.de
www.echolot-pr.de




Fr. Gwendi Harer
Electrostar GmbH
Hans-Zinser Str. 1-3
73061 Ebersbach
Fon: +49 7163 9988-011
gwendi.harer@starmix.de
www.starmix.de